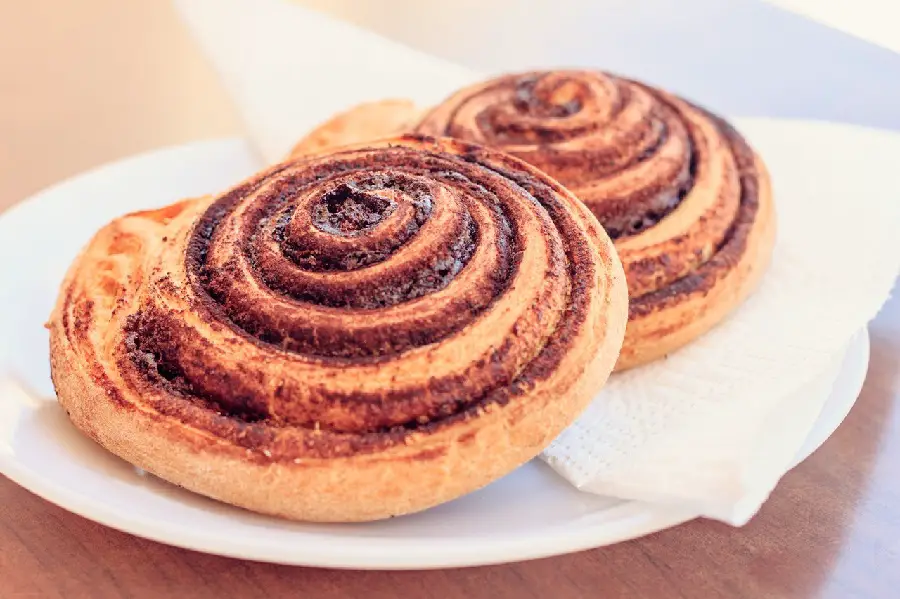 Nauset Cinnamon Bread
Ingredients
2-1/2 cups warm water
2 Tablespoons instant yeast
1/4 cup brown sugar
1/4 cup canola oil or melted butter
2 eggs, beaten
1 cup raisins
1 Tablespoon salt
1 Tablespoon cinnamon
8 to 9 cups unbleached bread flour
Instructions
In a large mixing bowl, dissolve the yeast in the warm water. Mix the sugar, oil or butter, eggs and raisins. Mix the salt, cinnamon and 7 cups of the flour together and add to the wet ingredients. Blend on low speed until moistened. Continue beating, adding flour until dough pulls cleanly away from the sides of the bowl. Either knead by hand for 5 to 8 minutes or continue with mixer for 3 to 4 minutes until dough is smooth and elastic.
Cover dough loosely with plastic wrap or cloth towel. Let rise in a warm place until doubled in size. Punch down and let rise a second time.
After second rise, divide dough in half. Divide each half into thirds and let rise, covered, for 5 minutes. For each braid, form each third into ropes and braid together, tucking the ends under. Place on grease cookie sheets, cover loosely and allow loaves to rise again. Brush the tops of the loaves with milk. Bake at 375 degrees until golden brown and loaf sounds hollow when tapped on the bottom. Cool on wire racks.