Chocolate-Rich Cake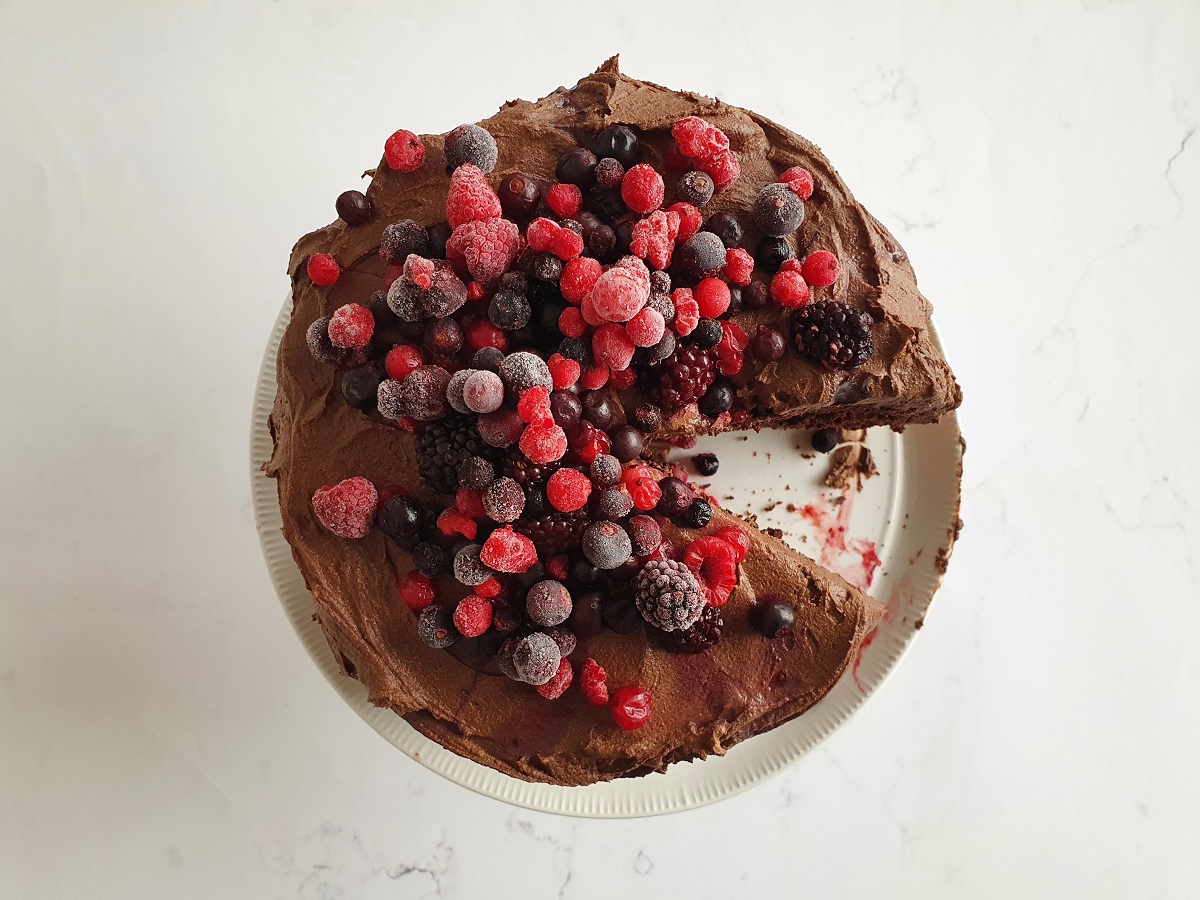 Adjust Servings
390

g

flour

180

g

cocoa

200

mL

honey

for a vege version use maple syrup

1

tsp

baking powder

1

tsp

baking soda

1

vanilla

a pinch of salt

700

mL

milk

for a vege version use almond/rice/coconut milk

250

g

butter, melted

for a vege version use coconut oil

380

g

applesauce
Frosting
800

mL

milk

for a vege version use almond/rice/coconut milk

500

g

dark chocolate

60

g

butter, melted

for a vege version use coconut oil

240

g

powdered sugar

1

chocolate pudding

2

tbsp

starch

250

mL

whipping cream

berries

for decorating only
1.
Preparation:
Preheat oven to 180 degrees C.
Grease three 20 cm round cake pans.
2.
In a bowl, mix together all dry ingredients for the batter.
In another bowl mix together the liquid ingredients for the batter.
3.
Combine the dry ingredients and the liquids. Whisk to combine. Divide the batter equally in three cake pans.
Bake for 30 - 40 min or until a toothpick inserted in the middle comes out clean. Cool completely.
4.
Frosting:
Heat the milk until hot either in a microwave or on a low heat. Do not boil.
Add the chocolate chopped in pieces and melt it by constantly mixing in the milk.
5.
Add the butter and powdered sugar and mix nicely.
In a small amount of milk, prepare the pudding mixed with the starch as instructed on the packaging.
6.
Add the melted pudding to the rest of the frosting.
On low heat, mix the frosting constantly until it becomes thicker. Constant mixing will prevent the formation of clumps. Leave the frosting to cool completely.
7.
Beat the whipping cream in a bowl.
Mix the whipping cream in the cooled frosting.
8.
Assemble the cake. Start with the first layer of cake, then add frosting.
Cover the cake with frosting completely.
9.
Optional:
Decorate with berries.